LIBERTA Baby Foot Exfoliating Foot Mask, Size L
LIBERTA 深层去角质足膜 #L码
1Pair
SKU:
4533213669413
Get your feet ready for the sandal season! The foot masks help to remove dead skin & calluses
and make your feet soft and smooth!
Limited time 20% off with code BEACHDAY20

Baby Foot Exfoliating Foot Masks
Baby Foot is an innovative foot care product that will make your feet as smooth and soft as a baby's foot. The unique formula of 17 types of natural extracts allow your feet to exfoliate naturally leaving them highly moisturized.
This effective and gentle process removes the unwanted dead skin cells that have built up layer after layer. In addition Baby Foot can improve other foot issues like: Foot Odor Athletes Foot and Blood Circulation. So say goodbye to rough dry cracked soles by using a product that really works!
Rediscover your baby soft feet!
Baby Foot is designed to remove the unsightly dead skin cells on your feet that build up over time and can contribute to numerous problems associated with the soles of your feet. Dead skin cells accumulate due to pressure and friction from ordinary activities such as standing exercising and wearing shoes. In many cases feet become cracked and painful from the accumulation of dead skin.
In the past frequent use of foot files and razors were used to "remove" the dead skin on your feet. However this was a temporary fix because as we now know from recent research filing generates more friction to the soles of your feet which in turn creates more dead skin. No more filing with the use of our Baby Foot product.
Baby Foot is an unparalleled total foot care package that provides you with the opportunity to care for and maintain your feet at home. Our scientifically formulated product contains 17 types of natural extracts which exfoliate and moisturize at the same time. The principal ingredient of Baby Foot is fruit acid which is very gentle when compared with other acids. The fruit acid penetrates into the layers of dead skin cells and breaks down the desmosomes which hold the layers together. By this process skin is undamaged but peels easily away from the fresh layer beneath. After peeling your feet are reborn just like a baby's foot giving you healthy beautiful feet.
17 Types of Natural Extracts
Baby Foot contains 17 kinds of natural extracts which have a high moisturizing power and astringency thus the sole becomes smooth after peeling. Baby Foot not only peels the dead skin cells from your feet it also maintains the grain of the skin and adds moisture to the skin.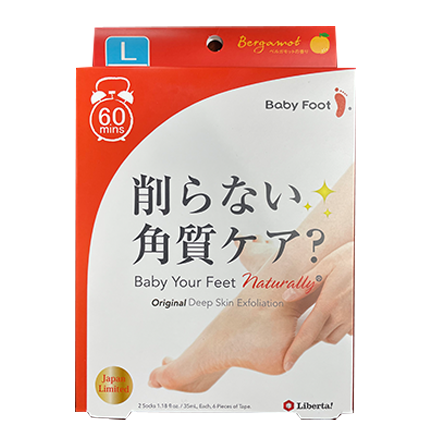 What is Fruit Acid?
Fruit acid is the generic name for Alpha Hydroxy Acid (AHA) which can be found in fruit. Fruit acid includes the nutrients needed by cells. This is why fruit acid is very gentle on the skin compared to other acids. Fruit acid has been formulated for facial cleansing and peeling. It supports the texture of the facial skin by removing the damaged outer layers thus beautifying and improving the skin. It has generally been proven that fruit acid reduces the adhesive power between the dead skin layers.